Welcome to our Website!

APIC Greater New York Chapter 13 (New York City)
is an official chapter of the Washington, DC-based national organization
Association for Professionals in Infection Control & Epidemiology, Inc. (APIC).
Are you a
New Member
or
interested in becoming a new membe
r? Learn more about our chapter by downloading our
2016 New Member Welcome and Resource Guide.APIC's mission
is to improve patient health and safety by reducing risks of infection and other adverse outcomes. APIC advances its mission through education, research, consultation, collaboration, public policy, practice guidance and credentialing.
Our members have the primary responsibility for infection prevention, control and hospital epidemiology in healthcare settings. Members work at healthcare facilities throughout New York City and the Tri-State area.
Our Vision
: APIC Greater NY Chapter 13 improves the health and safety of patients, employees, and the members of the Greater NY community by serving as the premier association for devising, communicating, and implementing state of the science infection prevention and safety techniques.
SPECIAL CHAPTER NOTICES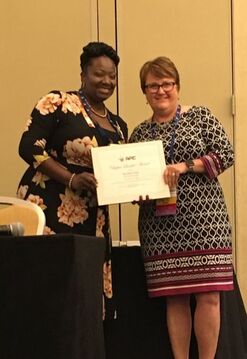 APIC Greater NY Chapter 13 President Ranekka Dean Ph.D receives the
Chapter Leader Award at APIC 2019 - Philadelphia, PA 06/11/2019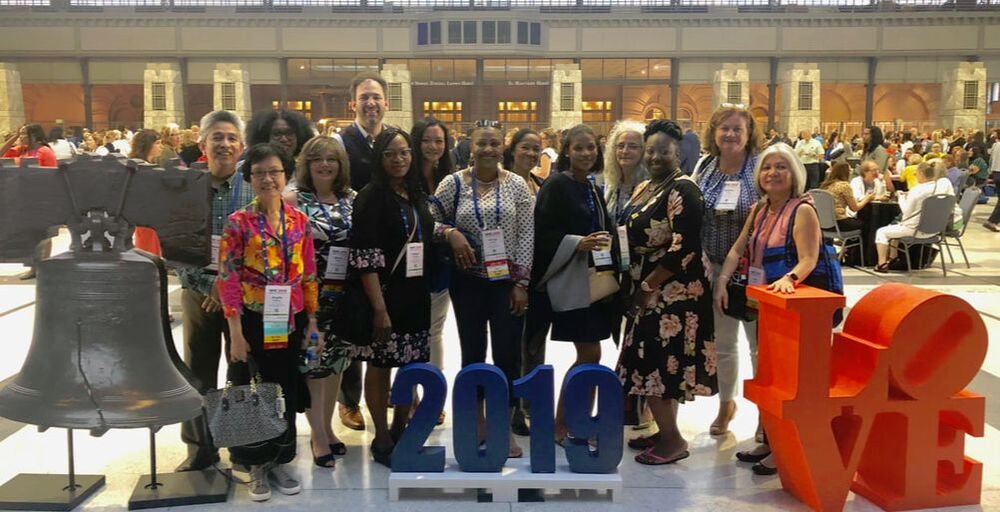 APIC Greater NY Chapter 13 Attends APIC 2019 - Philadelphia, PA
06/11/2019
CONGRATULATIONS to our Chapter - On March 28, 2018, the national APIC Nominating and Awards Committee announced that our chapter was selected for the 2018 Chapter Excellence Award for Member Support. Our chapter received special recognition at the APIC 2018 Conference in Minneapolis, MN on June 12, 2018.Our next regular chapter meeting is Wednesday, June 19, 2019 from 2:00 to 4:30 pm at Lenox Hill Hospital - 2nd Floor Theater Room.
Topic: Professional Develoment by Tania Bubb PhD RN CIC FAPIC from Memorial Sloan Kettering. We also will be hosting public health officials from Singapore and discuss Outbreak Management with them.
We will also have our Journal Club and Q&A presentations. Come to the meeting and share -- all teach and all learn!
For more information about our meetings, please see the
2019 Meetings and Programs
tab.
Other Notices

* SAVE THE DATE * * OCTOBER 10, 2019 * * APIC Greater NY Chapter 13 hosts our next day-long IP Conference: "Infection Prevention in the Era of Regulatory Requirements" at NYU Langone Health, 560 1st Ave, New York, NY 10016 (1st Ave., between 30th and 33rd Streets). SAVE THE DATE * * More info coming soon. * *

* INFLUENZA IS NO LONGER PREVALENT/WIDESPREAD
in NY
as announced on Friday, 5/3/2019
, based on data for the week ending on May 3rd. Healthcare workers in Article 28 facilities who are not vaccinated against seasonal influenza
no longer need
to wear a surgical mask as required by NY State Law. For more info on the
state's Influenza regulations, click here.
* Ebola Information
-- The CDC conducted a webinar on Ebola on 10/14/2014.
To get the PowerPoint presentation from this training session, click here.
* University of Nebraska Ebola PPE Protocol Photo Guides to PPE Selection & Use and Donning and Doffing
- have been made public. Get a copy here! Donning Guide Doffing Guide
* Ebola Lab Guidance (revised) from NYS & NYC DOH - September 2014
The NYCDOH issued a special revised set of guidelines for laboratory handling of patient specimens when the patient may have Ebola Virus infection.
Click here to download
this document.
* Influenza Vaccine - Flu Masks - NYSDOH Regulations - FAQs
The NYS Department of Public Health has implemented a state-wide regulation requiring all HCWs who are not vaccinated against influenza to wear a surgical face mask whenever they are in locations in a licensed healthcare facility (e.g., Article 28) where patients may be present during the flu season when influenza is "widespread" in NY State, according to the NYSDOH Commissioner. NYSDOH has prepared an FAQ document to explain the details of this regulation.
Access a copy of these updated FAQs here.
* Speaker's Bureau
One of the most important roles of the Association of Professionals in Infection Control & Epidemiology (APIC) is education about the prevention of health care associated infections. The Speakers' Bureau from the APIC Greater NY Chapter is available for presentations on a range of topics including reduction of device related infections, occupational health concerns, communicable diseases, and more. Our presentations can be geared to students in nursing, medical, and numerous other allied health care fields. We are also available for professional organizations and community groups.
As part of our Chapter's outreach efforts, these sessions are complimentary. Many of our speakers are Masters' prepared and all are highly experienced infection prevention practitioners, many of whom work in leading NYC-area hospitals and other healthcare facilities.
If you would like more information, please contact Barbara A. Smith, RN, BSN, MPA, CIC FAPIC at
basmithrn@gmail.com
or 212-523-2105.